What should I be doing to get a job? Are companies even hiring right now? Those are the top two questions that I hear from clients these days.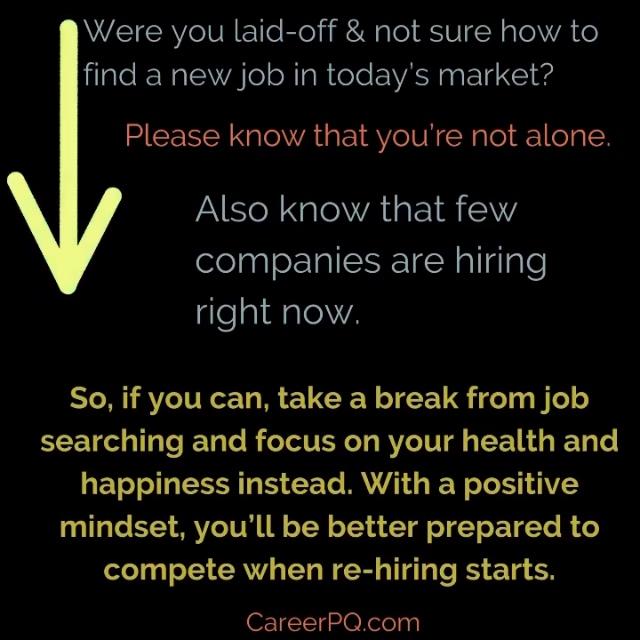 Since helping professionals change careers and find new jobs are core functions of my coaching practice, I closely watch hiring patterns and macroeconomic trends. I used to (way back in January!) be able to accurately predict the ability of my clients to land a new job across multiple sectors. Today, not so much. My best guess is that hiring in most industries/roles is not going to pick up again until late summer.
So what, if anything, should you be doing in the meantime? If you have the bandwidth, spend some time organizing and preparing your job search materials, with the goal of being as targeted as possible in your search. It's also a great time to learn new skills and/or gain certifications (many schools are lowering fees and admissions standards, so do your research).
What you shouldn't do is spend hours and hours searching job boards and submitting multiple job applications each week. Seriously, the "throw spaghetti against the wall and hope it will stick" job search approach does not work and, at best, leave you feeling defeated. Instead, set a goal of submitting to only those positions that very closely meet your job target criteria. For many of my clients, that's about two applications each week right now.
Instead of spending hours searching, spend the time on your own health and wellbeing. View self-care as the most important part of your job search process. With a healthy body and a positive mindset, you'll be better prepared to compete when hiring picks up.
#jobsearch #careercoach #coaching #leadership